RADIO KILLED THE VIDEO STAR
Overview
Radio Killed the Video Star is a quest mod for Fallout 4 being developed using the Creation Kit modding tool.
Still keen on pursuing his pre-War dream of making it as a screenwriter, a naively determined ghoul believes that a certain actress of pre-War TV soap opera fame will change his fortune. With the help of the Sole Survivor, he hopes to convince the charismatic actress, who is now also a ghoul and but a shell of herself, to return to her former brilliance.
As a Quest Designer
Map out quest structure, pacing, and flow in stages using articy:draft.

Integrate quest content through learning and utilizing the Creation Kit modding tool.

Analyze existing quests in the vanilla game to understand established content, design choices, and player expectations.
As a Narrative Designer
Write branching character dialogue, quest log entries, and other in-game texts and descriptions.

Develop character personalities, flaws, motivations, appearances, backstories, and arcs.

Adapt creative style to work within the IP's established tone, world context, and canon.
Overview
Shen is a VR survival horror with a wheelchair-bound character in a haunted East Asian-inspired ruined theater. This DigiPen junior/senior game project was developed in Unreal Engine 4 on the Oculus Rift by a team of 15.
As a Creative Director
Communicated vision clearly and consistently across disciplines using images, references, and simple infographics.

Reviewed design, art, and audio content to ensure relevance, cohesion and quality.
As a Narrative Designer
Documented the world, characters, narrative themes, and story to guide development.

Developed the look, backstory, and motivations of a ghost enemy with dual personas.

Provided narrative answers for gameplay questions and user experiences to maintain logical consistency and immersion.

Wrote screenplay of a 1-minute game trailer to communicate the horror and showcase gameplay moments.

Engaged in cross-media competitive and cultural research to inform decisions.
Overview
Mamsbrörr is a third-person village environment with an original Norse-inspired matriarchal culture. The focus of the project is on portraying culture and society, and encouraging exploration through a linear questline, NPC dialogue, and level design with gameplay mechanics kept to a minimum. This two-person project was developed in Unreal Engine 4.
As a Narrative Designer
Conceptualized a matriarchal culture with beliefs, values, traits, motivations, norms, rituals, artifacts, and a mythology that value mothers and warmth.

Created character dialogue for quests and NPC banters that reflect individual character personalities and the culture as a whole.

Defined village history, development, population, functions, and social structures.

Collaborated with level designer to identify and iterate on key locations, landmarks, architectural spaces, set dressing, and quest flow.

Implemented NPC interactions by building upon a dialogue plugin in Unreal Engine 4 to support narrative content and development.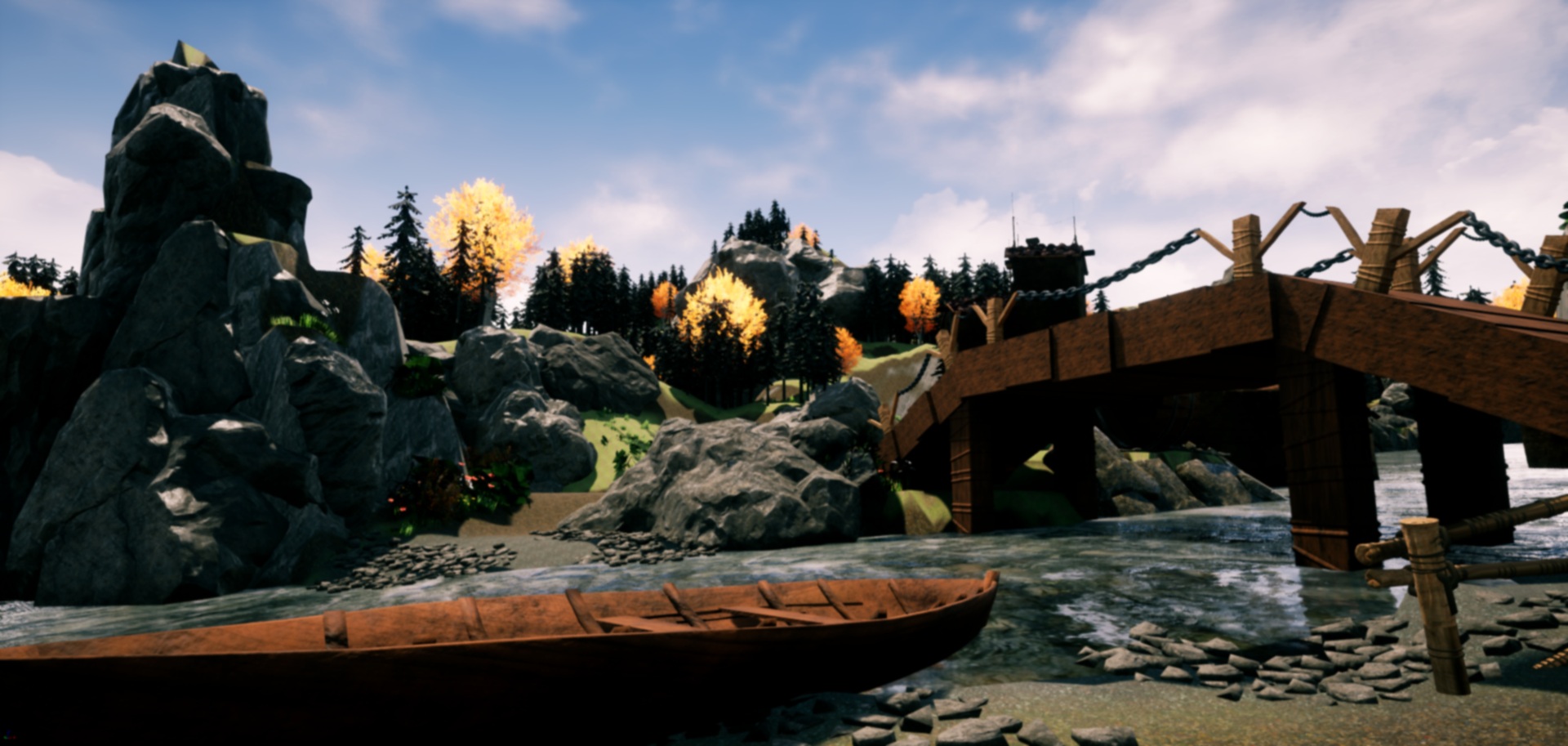 Overview
GoatHerd is a 2D side-scrolling puzzle-platformer in which the player is a dog and herds goats through the seasons. This DigiPen sophomore game project was developed in Unity by a team of 4 designers, 3 artists, and 1 sound designer, and was showcased at PAX West 2018.
As a Narrative Designer
Outlined game narrative following a three-act structure consisting of 10 emotional beats.


Established narrative themes to provide guidance and context for effective and efficient execution of narrative.


Developed character personalities, motivations, and relationships with an emphasis on duality and contrast.


Drew storyboards to visualize and plan out the pacing of cutscenes and gameplay proper levels.
As a UI/UX Designer
Created high fidelity mock-ups and UI assets for all menus and screens.


Implemented button navigation and screen transitions for the main menu and pause menu in Unity.
As a Producer
Enhanced team productivity, collaboration, and information sharing through the all-in-one tool, Notion.


Evaluated progress, tasks, and priorities through organized and documented weekly team meetings.


Predicted, assessed, and mitigated project and interpersonal team risks throughout development.